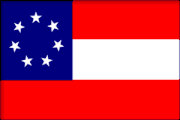 1st Confederate Flag (Stars and Bars)




The first official flag of the Confederacy, called the "Stars and Bars," was flown from March 5, 1861 to May 26, 1863.

The very first national flag of the Confederacy was designed by Prussian artist Nicola Marschall in Marion, Alabama. The Stars and Bars flag was adopted March 4, 1861 in Montgomery, Alabama and raised over the dome of that first Confederate Capitol. Marschall also designed the Confederate uniform.

The 1st Confederate 3'x5' polyester flag has 2 brass grommets for attaching to your flag pole. Flag is printed and has 7 stars in the field which is the original 1st Confederate flag.



1st Confederate Stars and Bars Flag License Plate



Assorted specialty novelty license plates are made of high quality aluminum and measure 6"x12". Standard auto mounting holes make attaching to the front of your vehicle easy or hang them on a wall like a sign.

These popular vanity tags can also be used for room decorations, travel souvenirs or gifts.



Buy two or more of the same design and save.


1st Confederate 4"x6" Stick Flags - 12 Per Pack



These polyester miniature 1st Confederate flags are sold by the dozen only. Each flag measures 4"x6" and is attached to a 10" black plastic staff with a black spear top. Excellent low price alternative for special events, parades, or table decorations.

Black 1 hole plastic flag stands are also available for purchase. Quantity discounts apply.

Each order unit equals 1 dozen flags.


1st Confederate Flag Embroidered Patch



100% embroidered first Confederate stars and bars patches measure 3.5" X 2.25". You can sew or iron them on.


1st Confederate Flag Vinyl Decals



These high quality decals measure 3.5" x 5" and are self adhesive and waterproof. Perfect for your car or truck.


1st Confederate Flag Sticker - sheet of 50



1st Confederate flag stickers are offered in order units of 50 stickers per flag design. Each 1st Confederate sticker measures 1" x 1 1/2" and is printed on heavy label paper stock.


Assorted Confederate Stickers - 50 per package



Each package contains 50 assorted self-adhesive flag stickers. Each sticker measures 1" x 1 1/2". Included are the Confederate Battle Flag, 1st Stars & Bars Flag, 2nd Confederate Flag, 3rd Confederate Flag, Bonnie Blue Flag. Plus an explanation about each flag and the dates they were flown.


1st Confederate Stick Flag 12"x18"



12"x18" 1st Confederate flags are great for parades, rallies and special event decorations. The flags are made of polyester with the design crisp on both sides of the flag and are sold in packs of 12.. All four sides of the flag are stitched and each flag is mounted with a pole hem to a 30" wood staff with a gold spear top.

Also can be used for grave markers.


1st Confederate Desk Flag Miniature 4"x6"



Beautifully printed on silk-like material, these 4"x6" miniature 1st Confederate stick flags offer the highest quality in a mounted desk or table top flag. They are carefully hem-stitched on all 4 sides for longer lasting beauty and are attached to a 3/16" x 10" black plastic staff with a gold spear.

Out of Stock


Polyester Miniature Confederate Set



This Polyester Miniature Historical Confederate set contains (6) flags consisting of the Confederate Rebel flag, 1st Confederate flag, 2nd Confederate flag, 3rd Confederate flag, Bonnie Blue flag and the Square Battle flag. Each flag measures 4"x6" except the Square Battle Flag which measures 4"x4" and each flag is attached to a 10" black plastic staff with a black spear top. This set also includes a 6"x2.5" inch white handcrafted (6) hole base and is designed to present these historical flags.


Confederate Flag License Plates



Over 40 Confederate flag designs.


Our Confederate flag license plates are top quality, aluminum plates measuring 6" x 12". They are all made in the USA.

Almost all are in stock now.

Order by 3pm Eastern Time M-F and most orders
ship the same day.
FREE STANDARD SHIPPING to the continental US (48 states) for online orders of $75.00 or more when you enter coupon code 75FREE during checkout. This offer does NOT include indoor or outdoor flagpoles or flag sets that are longer than 6'.
Our 22nd year selling world flags online.
EZ Flag Finder - Scroll down the two option boxes below and find the country or other flag designs that you are looking for and it will take you to the page with all products associated for that country or flag design.
Mail Orders

Purchase Orders

Phone Orders

Mail your order along with a check or money order to the address shown below.

Please include your shipping address and phone number.

Schools, colleges, universities, city, county & state governments

Fax a signed copy of your PO to 706.216.2006

Or mail the PO to the address shown below.

Call customer service toll free at 1.800.552.4382

8am to 4:00pm EST Mon-Fri

We accept credit cards over the phone.
Most orders received before 3pm EST Monday – Friday will be sent the same day.
Flags Georgia LLC
2807 Highway 9 North
Dawsonville, Georgia 30534
Questions? Email us now
We accept purchase orders, phone, fax and mail orders.
Customer Service 1.800.552.4382
8:00 am to 4:00 pm Eastern time Monday-Friday
International calls 706.216.2001
Fax 706.216.2006