These 100% polyester international flags measure 3'x5', have 2 brass grommets used for attaching to your flag pole, and are perfect for special events, school projects, church and business displays, or for displaying in your dorm room or home.

Although they can be used indoors and outdoors, we recommend the top quality nylon outdoor display flags if you are going to use your flag outdoors for prolonged periods of time in all types of weather.



These top quality nylon flags are authentically reproduced with special attention to detail and durability. Made of 100% nylon and sewn to the same specifications as the U.S. and State Flags. They are made for outdoor use with heavy heading and brass grommets. Quantity prices and other sizes not shown are available on request.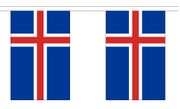 Icelandic string flag bunting is available in two sizes, 10' string with 10 6"x9" polyester flags or 30' string with 30 6"x9" polyester flags. Several 10' sections can be tied together for a longer length and the 30' strings can be cut to fit the size that you need in the space available.

These are perfect size flags for indoor display at a party, school, business, restaurant or sports bar.



Beautifully printed on silk-like material, these 4"x6" miniature Iceland stick flags offer the highest quality in a mounted desk or table top flag. They are carefully hem-stitched on all 4 sides for longer lasting beauty and are attached to a 3/16" x 10" black plastic staff with a gold spear. Additional discounts on larger quantities are available by calling 1-800-552-4382.



This high quality International and American miniature flag desk set is perfect for office, classroom and table decorations. Flags are made of silk-like rayon, measure 4"x6" and are attached to 10" black plastic staff with a gold spear top. All edges are hem stitched. Flag stand measures 4" long, 2.5" wide and stands .75" high.



Length - 30'
Number of Flags - 30
Size of Flags - 6" x 9"
Flag Material - Polyester
Bright Image on Both Sides



These polyester miniature Iceland flags are sold by the dozen only. Each flag measures 4"x6" and is attached to a 10" black plastic staff with a black or gold spear top. Excellent low price alternative for special events, parades, or table decorations.

Black, gold or white plastic bases or natural color oak bases are also available for purchase in a one hole version.

Each order unit equals 1 dozen flags.



Miniature Iceland flag toothpick flags make great party and dinner decorations. Each box has 100 flag toothpicks. Each miniature flag is approximately 1" x 1 1/2" mounted on a 2 1/2" toothpick.

Buy six boxes or more and save.



12" x 18" Iceland stick flags are great for parades, sporting events, rallies and special event decorations. The flags are made of polyester with the design crisp on both sides of the flag and sold in packs of 12. All four sides of the flag are stitched and each flag is mounted with a pole hem to a 24" wood staff with a gold spear on top.



Waterproof vinyl flag decal measures 3.5" x 5" and is self adhesive with the glue on the back of the decal. These top quality decals will stick to any smooth flat surface.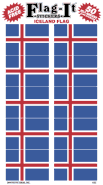 Each package contains 50 self adhesive Iceland flag stickers measuring 1"x1 1/2" each. Excellent for school projects and envelope decorations. Sticks to any smooth surface.



Iceland prismatic reflective decal stickers are made of waterproof vinyl. Decals measure 3"x4" and can be used outdoors in all weather. Great for attaching to your car, truck or boat. Decorate your home or automobile and show your Icelandic pride.

On sale now for only $2.00 each. Buy six or more of the same design for only $9.00.



Iceland flag stickers are offered in order units of 50 stickers per flag design. Each flag sticker measures 1" x 1 1/2" and is printed on heavy label paper stock.

Excellent for school projects, scrapbooks and envelope decoration.



Iceland flag shield patches are fully embroidered and measure 2.25" x 2.5". Each patch is trimmed in gold and can be ironed or sewn on.



Iceland flag patches are fully embroidered with the name of the country on the patch. Each patch measures 3.25" x 2.125". These flag patches are the highest quality world flag patches on the market and can be sewn or ironed on.



Iceland flag patches are fully embroidered and measure 3.5" x 2.25". These are the highest quality world flag patches on the market and can be sewn or ironed on.



Iceland single flag lapel pins depict one waving flag. Each Icelandic flag pin measures approximately 1" x 3/4" or 24 mm x 16 mm and has an all metal lacquered design with clutch pin.

Flag pins are an inexpensive way to remember your visits to different countries of the world or to show your international country heritage.



Each Iceland flag friendship lapel pin depicts the US flag on the left along with the Icelandic flag on the right. Each pin measures approximately 1" x 3/4" or 28 mm x 18.3 mm and is the same quality as the single flag lapel pins.

Great stick pins for your hat and backpack decorations. Start your collection now.



Reflective vinyl oval decal stickers have adhesive on the rear of the decal which allows it to stick to any flat surface whether indoors or outdoors. Decal measures 3 inches x 4 3/8 inches and are made