This popular 100% polyester Kansas state flag measures 3' x 5', is double stitched, has 2 brass grommets attached, and is individually packaged. It can be used indoors or outdoors, but is not as durable outdoors as the nylon flags.




Unsurpassed in elegance and craftmanship, these 3'x5' acid dyed Kansas state flags are made to precise specifications. Intricate emblems are produced with exactness in fast, brilliant colors. Each flag is individually boxed and made in the USA. These outdoor display flags are offered in 100% lustrous nylon. Flags are finished with canvas heading and brass grommets.



Kansas state flags are acid dyed on Invista Solar Max nylon, and are manufactured with the same superior craftsmanship as our US flag line. Each flag is finished with canvas header and brass grommets, and four rows of lock-stitching on the fly end.



Click photo for larger image. Each State of Kansas indoor flag set includes the 3'x5' gold fringed nylon Kansas state flag with lined pole heading, leather tabs, cord and tassels, 8' polished oak pole with solid brass joint, heavy metal gold anodized stand, and gold plated 7 1/2" metal spear. (American Flag set sold separately).

Compare our prices with any other company on the Internet. You receive with our set FREE gold cord and tassels. Our bases are heavy metal, not plastic. They do not require the addition of sand to make them stable.

You have the option to add a 3'x5' Indoor US flag set.



This 4"x6" miniature Kansas State Flag is made of polyester and attached to a 10" plastic staff. Miniature stick flags are the perfect size for table or desk decorations, parades, school projects and special event displays. Quantity discounts are available when you buy 12 or more.



This high quality State and US miniature flag desk set is perfect for office, classroom and table decorations. Flags are made of silk-like rayon, measure 4"x6" and are attached to 10" black plastic staff with a gold spear top. All edges are hem stitched. Flag stand measures 4" long, 2.5" wide and stands .75" high.



These popular 12"x18" Kansas miniature stick flags are perfect for parades, special events, classroom decorations or souvenirs and are sold in a pack of 12. They are made of a polyester material which is stitched on all sides and attached to a 30" wood pole with a sewn pole hem.

Quantity discounts are available.

You also have the option to add a metal mounting bracket that screws to a wall or post or a round one hole wooden base.



Kansas flag stickers are offered in order units of 50 stickers per flag design. Each Kansas flag sticker measures 1" x 1 1/2" and is printed on heavy label paper stock.



Kansas flag reflective vinyl oval decal stickers have adhesive on the back of the decal which allows it to stick to any flat surface whether indoors or outdoors. Each decal measures 3 inches x 4 3/8 inches and are made for long term outdoor use.



These waterproof vinyl flag decal stickers are perfect for attaching to your car window, bumper or any smooth flat surface. They measure 3.5" x 5" and have the adhesive on the back of the decal. Quantity discounts are available if your order 6 or more of the same state.



Kansas flag shield patches are fully embroidered and measure 3 1/8" x 3 1/2". Each patch is trimmed in gold and can be ironed or sewn on.



Kansas State Seal Patches are fully embroidered and measure 3 inches in diameter. These state seal patches can be ironed on or sewn on. Quantity discounts apply.



State flag patches measure 3.5" x 2.25", are fully embroidered and trimmed in gold. These are the finest quality patches available and can either be ironed or sewn on.



Kansas single flag lapel pins depict one waving flag. Each Kansas flag pin measures approximately 1" x 3/4" or 24 mm x 16 mm and has an all metal lacquered design with clutch pin.

Flag pins are an inexpensive way to remember your visits to the different states of America.



Each Kansas flag friendship lapel pin depicts the US flag on the left along with the Kansas flag on the right. Each pin measures approximately 1" x 3/4" or 28mm x 18.3mm and is the same quality as the single flag lapel pins.

Great stick pins for your hat and backpack decorations. Start your collection now.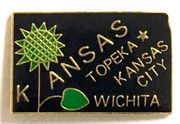 Kansas map lapel pins are shaped like the map design of the State. Each Kansas map pin measures approximately 5/8" x 5/8" and has an all metal lacquered design with clutch pin.